October 9, 2008 | 3 - 4pm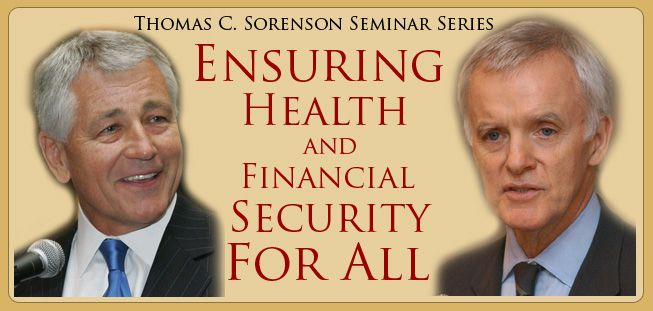 On Thursday, October 9, 2008, Senators Hagel and Kerrey spoke candidly about the United States' struggle to reform health care and looking forward to what must be done to ensure health care for all. This free event was proudly sponsored by AARP, Prairie Fire newspaper, and the University of Nebraska Public Policy Center.
Watch video of the event here.
Essays from Prairie Fire:
Senator Hagel's Essay
Bob Kerrey's Essay
Multimedia:
Local News Coverage Of The Forum is available here. (2009, October)
In the news:
Hagel, Kerrey Discuss Health Care Issues. (2008-10-10). The Daily Nebraskan
Kerrey, Hagel Eye Gathering Storms Ahead. (2008-10-10). Lincoln Journal Star
Lincoln Forum Highlighted Presidential Candidates' Health Care Proposals. (2008-10-10). Omaha World-Herald