Location
Nebraska Union Auditorium
With the continued deployment of U.S. troops abroad, the over 200,000 women serving in the armed forces continue to play a vital role in all military operations. However, the service and achievements of women in the military have often gone unrecognized or unreported, and servicewomen do experience specific challenges both while serving and in the transition to civilian life.
Genevieve Chase – Executive Director of American Women Veterans and a veteran of the war in Afghanistan – will speak about service in the military, policies that affect women veterans, women in the Veterans Health Administration system, and other issues of importance to women veterans and their families.
This event is co-sponsored by the University of Nebraska Student Veterans Organization, University of Nebraska-Lincoln Women's Center, the University of Nebraska Public Policy Center, and the University of Nebraska-Lincoln College of Arts and Sciences through the Thomas C. Sorensen Policy Seminar Series.
The event is free and open to students, staff, faculty, and community members.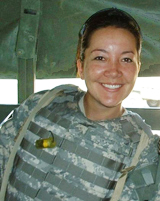 Genevieve Chase
Genevieve Chase is the founder and executive director of American Women Veterans and a veteran of Operation Enduring Freedom VII.
Ms. Chase enlisted in the US Army Reserve in 2003 and following training, volunteered to serve with the Army's 10th Mountain Division (Light Infantry), and deployed as a sergeant to Afghanistan. During her service there, Chase's vehicle was attacked by a Suicide Vehicle Borne IED while returning from a routine meeting with local government officials on April 7, 2006.  The passengers survived the attack but suffered varying degrees of Traumatic Brain Injury and Post Traumatic Stress Disorder.  To counter the symptoms of TBI and PTSD, Ms. Chase dedicated herself to veterans' advocacy.
Since returning from active-duty service, Ms. Chase has worked tirelessly to bring to light the issues faced by veterans of the Afghanistan and Iraq conflicts.  While advocating on behalf of veterans, she discovered that there was no organization in existence that focused on women veterans and their families from all eras and branches of service.  From that void, American Women Veterans was created, and the women veterans' movement began in earnest.
Ms. Chase has testified on the Senate Foreign Relations Committee about her experiences in Afghanistan as well as the Senate Veterans Affairs Subcommittee on Women's Healthcare.  She received a Purple Heart and a Combat Action Badge and is often called to act as a consultant to media on veterans and women veterans' affairs, appearing on CNN and NBC's Nightly News. She was recently selected as one of the U.S. Army Reserve's 2010 Soldier Heroes and was honored at the All American Bowl in San Antonio, January 2010.
In the news:
Speaker Addresses Plight of Women Veterans. (2010-04-15). The Daily Nebraskan
Click here to listen to Genevieve Chase's presentation.